The trending 2020 Christmas gifts to buy right now
All the best trending 2020 Christmas gifts to buy for your loved ones this December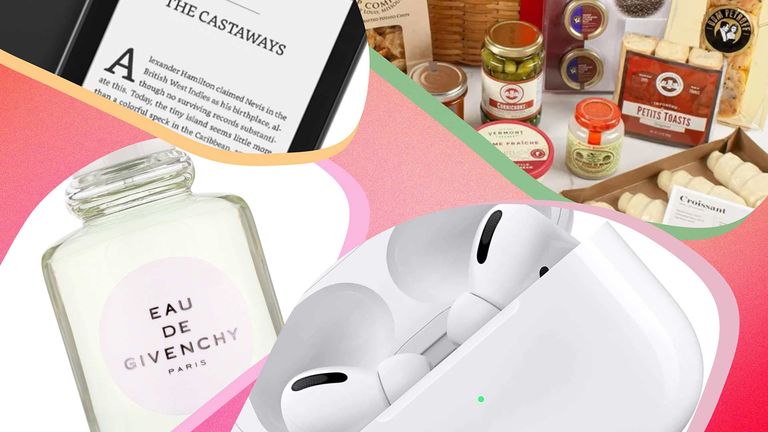 (Image credit: Kindle / Martha Stewart / Givenchy / Apple)
There are a whole host of trending 2020 Christmas gifts that everyone is trying to get their hands on for loved ones this month. And with less than two weeks until the big day, it's time to start getting all yours in while you can. 
From beauty products like make up and skincare essentials to fashion staples that'll last you all year around, some gifts are always going to be an instant win. Whether you're shopping for your dad, an aunt or a sibling, the options are endless. However, if you want to get something that is in demand and will guarantee a warm welcome, then look no further. 
We've gathered some of the most popular Christmas gift ideas out there this year that have been trending all season. So no matter your budget, here's a definitive list of some of the best trending Christmas gifts 2020 has to offer. Happy shopping! 
Moon Lamp
Something bright and beautiful
Moon lamps are more popular than ever right now and this gorgeous one by Not On The High Street is the perfect light for your bedroom or working desk. Easily mistaken for the real deal thanks to its impressive 3D detail, the moon lamp brings an exciting piece of outer space into your home, bringing a beautiful illuminated light.  
Elf: Snowball Showdown - Card Game
A fun game for the family
One of the most (if not the most)  in demand Christmas games is of course, the Elf Snowball Showdown card game - everyone wants to get their hands on it around this time of year and with it sold out almost everywhere, you'll be the family hero if one of your relatives unwraps this on Christmas day for the family to play. 
Apple Airpods Pro
With wireless charging case
If you're still using wired earphones then you might be mistaken for an ancient dinosaur nowadays as Airpods have become the socially accepted norm. Christmas is the perfect time to get a loved one who hasn't made the upgrade yet a loving surprise that'll not only make their lives easier (kiss goodbye to tang;ed wires for good) but also looks way cooler. 
Disney Plus Access 1 Year Subscription - Disney + Warranty - Instant Delivery
Make it a magical Christmas
Make the year for the Disney lover in your life with a year-long subscription to Disney+. The popular streaming service will make days and nights in all the more magical with unlimited access to everything from  old school Disney classics to exciting new TV shows and movies to enjoy, most of which are exclusive to the platform. 
Martha Stewart All Food Gift Set - Luxury Hamper Food Gift Set
Because who doesn't love an edible gift?
You can never go wrong with a good food hamper and naturally, this Martha Stewart gift set is top of the pick. The gourmet hamper comes complete with Petrossian's famous caviar and delicately smoked salmon, ready-to-bake all-butter croissants, a selection of the finest French cheeses, rich country pate and pungent grainy mustard just to name a few of the goodies. We can taste the luxury already!
Givenchy Eau de Toilette Eau de Givenchy
A sophisticated fragrance with a charming scent
Fragrances are up there with the most popular Christmas gift ideas but with so many on offer, it can be hard to decide on one that'll suit the person you're shopping for - especially as it can be a personal gift. However, there are plenty of great offers on Amazon that might make your decision a lot easier, including a good price for this popular Givenchy scent that oozes elegance and luxury. 
100 MOVIES - Scratch OFF BUCKET LIST poster Scratch Last Wish Poster Gold silver
For the movie buff in your life
Have a fried or relative who prides themselves in their movie knowledge or simply loves a good blockbuster? Then this is the perfect gift. Set them a challenge by seeing how many of these 100 classics they have watched whilst adding the rest to their bucket list by gifting them this poster. You could even turn it into a fun game!
Amazon Kindle Paperwhite (Waterproof Edition, 8GB)
Available in four different colours
Amazon Kindles are a great gift for anyone who loves reading. This particular one allows you to enjoy twice the storage with 8 GB or gives the option to choose 32 GB to hold more magazines, comics and audiobooks. It is also waterproof (great for when we're allowed on holidays again) and is available in black, twilight blue, plum and sage.
Sagal is a journalist, specialising in lifestyle, pop culture, fashion and beauty.  She has written for a number of publications including Vogue, Glamour, Stylist, Evening Standard, Bustle, You Magazine, Dazed and Wonderland to name a few.