Anastasia Beverly Hills' new brow app will give your pandemic beauty a boost
We're coming for those brows, Lily Collins!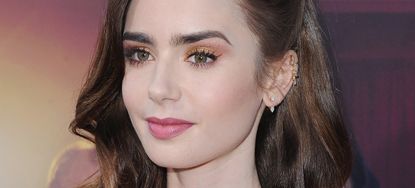 (Image credit: Jon Kopaloff/Getty)
It's the one thing that really shapes our faces, but our brows are also the one beauty trick that we all struggle to get right. We've all pondered over whether we should try microshading, brow lamination or a brow kit like REFY Beauty.
But if you want "The Bridgerton Brow" or a forehead furrow to rival the famous one on Golden Globe 2021 nominee Lily Collins's face, a new app may just be the secret to a strong brow game.
Launching on Apple iOS March 1 and on Android March 15, the new augmented-reality app from eyebrow experts Anastasia Beverly Hills is basically the beauty lifesaver we've needed during this pandemic—it can help you shape, groom and even fill in your brows, all from the comfort of your own home.
The Brow App works by answering a series of questions about your eyebrows and it then selects the right brow shape for you. Their Look Library is almost like trying on different sets of eyebrows—without having to commit to anything. Whether you have naturally slim eyebrows or want bushier face decor like brow queen Cara Delevingne, the app gives you a chance to really see what suits your face.

One of the perks of the app is the brow mirror, which is an outline of your chosen brow—this allows you to draw or pluck your desired look using the outline as a guide. The app also reveals the history and theory behind the beauty brand's Golden Ratio Method, which breaks the brow down into thirds and was developed to determine your most flattering eyebrow shape.
More than 10 Anastasia Beverly Hills eyebrow products, such as the brand's popular Brow Definer and Brow Powder Duo, will be available to purchase via the app and partner retailers. (Ulta Beauty will be the primary retailer here in the states.)
And eyebrows won't be the only beauty section on the apps—come fall, you'll be able to find lip and complexion products and eyeshadow palettes as well.
Stars like Lily Collins—who recently admitted to overplucking her brows when she was younger—don't just get dreamy eyebrows by accident. They have experts on hand to help them.

That's why Anastasia's new brow app could be life-changing—in an era when in-salon consultations are functionally impossible, the app is designed to give you expert help at home, without the cost of professionals or the hassle of going to a store. We can't wait to try it to get our own celebrity-perfect eyebrows!
Freelance lifestyle journalist for @BBCBusiness @Womanandhome @ESlifeandStyle @TheIndyBest / co-host of @getajobpodcast and founder of PR secrets. I specialise in health and wellbeing, travel, business, human interest, beauty, and in-depth features.