Best moisturizers for oily skin—balancing and hydrating gel formulas
Our best moisturizers for oily skin that are lightweight and hydrate oily skin without blocking pores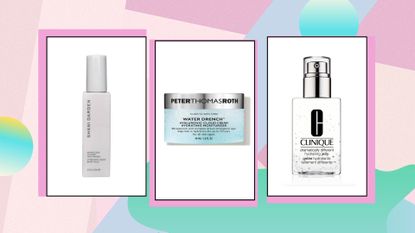 (Image credit: Future/brands pictured)
The best moisturizers for oily skin should keep the skin hydrated without blocking up the pores with excess oil or thick formulas. Oily skin can masquerade as hydrated skin—bu skin can actually be both oily and dehydrated.
So while it might seem counterintuitive to moisturize oily skin, the biggest mistake you can make in your skincare routine when looking for the best face moisturizer is to ditch hydration for fear of making your face greasier. All that will happen is your oily skin will send in more sebum to compensate for the dehydration—and so the cycle continues.
Our guide to the best moisturizers for oily skin will help you figure out how to choose moisturizer that is right for you, which will hydrate without riling oily and acne-prone skin—like Origins GinZing Moisturizer, for example. We've tested countless moisturizers in order to select the very best formulas for every oily skin concern. On our quest, we found all the below to be worthy of a spot on our list…
Meet the experts on moisturizers for oily skin
How to choose from the best moisturizers for oily skin
Given that dehydrated skin is characterized by reduced water in the uppermost layers of skin, it makes sense to opt for a water-based gel moisturizer. So, when its comes to choosing between the best moisturizers for oily skin for you, you should look out for:
To keep your skin in good condition, it's important to think about your cleansers too. Dehydrated skin is often caused by excessive cleansing, although diet, change in season, and not drinking enough water can also play a part. It's good practice to wash your face both morning and night, but, says dermatologist Dr. Anjali Mahto: "Anything too harsh will strip skin of its natural water and oils, leaving it feeling tight and irritated."
A foaming cleanser laced with salicylic acid is a more skin-friendly option for oily skin, but be sure to also scan the label of your moisturizer for the words "oil-free" and "non-comedogenic" (meaning it won't clog pores) when you look to revamp your skincare product order. Also important is seeing "aqua, water, and deionized water" at the top of the ingredients list.
The best moisturizers for oily skin as reviewed by a beauty editor
1. Shani Darden Weightless Oil-Free Moisturizer
Best all-rounder moisturizer for oily skin
Specifications
RRP: $48/£36
Size : 2.5 fl oz/75ml
Main ingredients: Vitamin E, sodium hyaluronate, squalane
Reasons to buy
+
Created by a world-renowned facialist
+
Brimming with good-for-skin hydrators like hyaluronic acid, squalane, and vitamin E
+
Fast-absorbing
Reasons to avoid
-
The 75ml bottle is only equivalent to a month's use
Shani Darden is the go-to facialist for celebrities including Jessica Alba, Shay Mitchell and Rosie Huntington-Whiteley. Given that few people, apart from your derm, are so intimately acquainted with skin issues, you can guarantee that Shani has seen (and successfully treated) her fair share of oily skin.
True to its name, this super lightweight gel moisturizer feels weightless and infuses skin with hyaluronic acid and algae extracts to make dehydration a thing of the past—as long as you follow the advice on how to apply moisturizer effectively.
2. Glossier Priming Moisturizer Balance
Best for wearing underneath foundation
Specifications
RRP: $25/£23
Size : 50ml
Main ingredients: Niacinamide, willow bark extract, marine extract
Reasons to buy
+
Mattifies without leaving a powdery-looking finish
+
Improves the look of gaping pores
+
Keeps foundation in place
Reasons to avoid
-
More like a gel-cream primer, so you need to switch to a different formula overnight
Perhaps the most appealing thing about this gel-cream moisturizer is the texture. While some mattifying formulas boast an opaque, almost waxy, consistency, this one dampens shine and blurs the appearance of pores without leaving skin looking flat or powdery, a perfect base for the best BB creams.
There's also no drying alcohol in the formula, just willow bark extract and niacinamide to help to curb oil production and keep pores clear.
3. Clinique Dramatically Different Hydrating Jelly Anti-Pollution
Best moisturizer for oily skin in the city
Specifications
RRP: $32.50/£35
Size: 4.2 fl oz/125ml
Key ingredients: Hyaluronic acid and extracts of cucumber, barley and sunflower seed cake
Reasons to buy
+
Delivers 24-hour hydration
+
Includes pollution protection
+
Strengthens skin's moisture barrier
Reasons to avoid
-
Can feel tacky on the skin
Clinique's custard-yellow Dramatically Different Moisturizing Lotion is probably one of the most iconic moisturizers of all time, perhaps rivalled by its own Clinique Moisture Surge Gel Moisturizer—but it can be too heavy and occlusive for oily skin. Thankfully, Clinique's scientists have created clear, gel counterpart rich in hyaluronic acid, which acts as a magnet for water, alongside refreshing cucumber fruit extract and barley to strengthen the skin's barrier.
Notably, it also contains Clinique's 'Clean Shield Technology'. Soot from traffic fumes can lodge in the pores, causing a cascade of skin issues: irritation, congestion, dehydration, and sebum levels to go into overdrive in response. Designed to lock hydration in and filter pollution out, this technology is like a burly bouncer for oily skin, great to pair with the best foundations for sensitive skin to minimise flare-ups.
4. Peter Thomas Roth Water Drench Hyaluronic Acid Cloud Cream
Best for seriously dehydrated oily skin
Specifications
RRP: $54/£45
Size: 1.7fl oz/50ml
Key ingredients : Hyaluronic acid, ceramides, elderberry
Reasons to buy
+
Contains 30% hyaluronic acid
+
Proven to hydrate for 72 hours
+
Plumps up fine lines
Reasons to avoid
-
You need to wait a few minutes for it to absorb before applying SPF over the top
Imagine drenching your skin in a cloud of pure cooling moisture and you'll be able to see the immediate appeal of this product. The only thing more addictive than the souffle texture is the intense injection of proven hydrators, which still manage to avoid overloading the skin.
These include hyaluronic acid—a molecule that can hold up to 1000 times its weight in water—and ceramides to prevent that moisture from evaporating, similar to the best hyaluronic acid serums.
5. Murad Nutrient-Charged Water Gel
Best for oily skin types who have previously sworn off moisturiser
Specifications
RRP: $68/£59
Size : 1.7fl oz/50ml
Key ingredients : Peptides, B and E vitamins, minerals
Reasons to buy
+
Non-sticky
+
Won't leave behind a white cast on deeper skin tones
+
Zero residue
Reasons to avoid
-
Like many water-gels, doesn't include SPF
Probably the most high-tech formula of the bunch. Dermatologist Dr Howard Murad has treated the water inside this pink gel with a special solution of amino acids and osmolytes (compounds used by cells to hold on to fluid).
Clinical trials show it draws moisture to the skin for up to five days without compromising pores. A truly intelligent oily skin solution that marries well with one of the best foundations for oily skin. Beauty contributor Lucy Abbersteen agrees that this particular formula is lovely to use and sinks into the skin beautifully to help quench its thirst.
6. Laura Mercier Mattifying Oil-Free Moisturizer
Best for an oily T-Zone
Specifications
RRP: $62/£54
Size: 1.7fl oz/50ml
Key ingredients: French lavender water, honey
Reasons to buy
+
Regulates oil on the skin's surface
+
Preps skin for makeup
+
Can be used strategically for combination skin types
Reasons to avoid
-
Doesn't carry claims of long-term hydration
One of Laura Mercier's primers is world-famous for creating a matte finish, so arguably the next logical step was an oil-free moisturizer to work alongside it.
Designed to subdue shine while still delivering ample amounts of moisture, this water-based formula does indeed form a matte veil over the skin. Bonus: it smells divine, thanks to the inclusion of French lavender floral water, which also helps to control surface oil.
7. Clarins Hydra-Essentiel Cooling Gel
Best for oily skin that's also sensitive
Specifications
RRP: $49/£38
Size: 1.7fl oz/50ml
Key Ingredients : Organic kalachoe extract, anti-pollution complex
Reasons to buy
+
Key ingredient is organic kalanchoe extract that boosts the skin's hyaluronic acid production
+
Soothes flushed, sensitive skin
+
Matte finish
Reasons to avoid
-
Not suitable for those who prefer a dewy finish
The sorbet-like consistency feels immediately cooling against skin that isn't coping with sudden changes in temperature, or that just feels out of whack generally. As it slips across skin it quenches with organic "Leaf of Life" extract—a succulent plant that improves skin's ability to retain moisture— and organic kalanchoe extract to boost its natural production of hyaluronic acid.
It is worth pointing out that what makes it particularly great for oily complexions is that it mattifies, so if you don't want a particularly matte base, it may not be to your taste. Those looking to stave off any hint of shine, however, will love it.
Fiona Embleton is a multi-award-winning beauty editor who has tested over 10,000 products in her 10 years + of writing and shooting beauty stories. For the past four years, she was the Senior Beauty Editor at Marie Claire, having previously worked in the role of Beauty Editor at both Stylist and Cosmopolitan. She has recently gone freelance and alongside My Imperfect Life, she has written for titles including ELLE UK, ELLE Canada, Buro 247, Harper's Bazaar Arabia, Vogue Scandinavia, and ES Magazine. Beauty journalism allowed her to marry up her first-class degree in English Literature and Language (she's a stickler for grammar and a self-confessed ingredients geek) with a passion for make-up and skincare, photography, and catwalk trends. She loves jumping on the latest internet-breaking beauty news, dissecting the best red carpet looks, and having the crème de la crème of dermatologists, make-up artists, and hairstylists on speed dial so she can tap them for the best advice. She's a discerning beauty shopper and knows it can be confusing trying to navigate what's hype and what really works. So if she really likes something, you can trust that she has reached that opinion by vetting it against everything else she's ever tried. Her career highs? Interviewing Cate Blanchett and winning a Jasmine Award for the deeply personal feature Cancer Stole My Mother's Scent.
With contributions from