The best gifts for Aquarius, the Zodiac's quirkiest sign
15 gifts for Aquarius signs, from high-tech gadgets to eccentric treats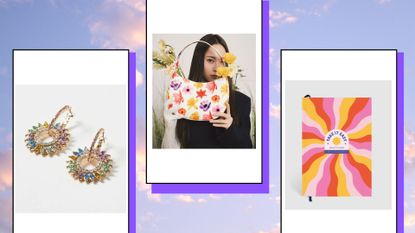 (Image credit: Future)
The best gifts for Aquarius signs will make the most of their quirkiness; if there's an eccentric trend or accessory floating around, you can bet this Air sign is already rocking it. That doesn't mean that they're all silly fun and games, though, as this Saturn ruled sign also has a deeper side which will appreciate thoughtful presents and the best astrology gifts. Zodiac expert Noush Joon, astrologer at astrology website Girl and her Moon, says that while this sign love to "walk to the sound of their own drum", they're also "innovative, very future-orientated and humanitarian". If you're struggling for the best gifts for Aquarius signs, you're in the right place.
Narayana Montúfar, senior astrologer for Astrology.com, recommends that the Aquarius' Saturn and Uranus alignments mean "you may want to splurge on a hot gadget for them". Noush agrees, adding that "they want to know that they have this thing that is more researched, more resourceful than the generic thing everyone else has done", and so you're best off opting for the newest version of cool gadgets with plenty of interesting features. On a more personal level, their humanitarian side will appreciate a gift from one of the best sustainable jewelery brands, or their love of standing out will favor a bright accessory. To save you the search and help you get ready for Aquarius season, here are 15 great gifts for Aquarius signs that range from fun to functional.
Meet the experts gifts for Aquarius signs
Gifts for Aquarius signs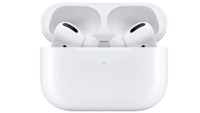 1. Apple AirPods Pro
RRP: $249/£239
Senior astrologer for Astrology.com Narayana recommends that "since Aquarius is ruled by both Saturn and Uranus, you may want to splurge on a hot gadget for them" this Aquarius season.
The iconic AirPods make for ideal gifts for Aquarius signs who are always on the go, and the newest generation version boast perks like Active Noise Cancellation, a customizable fit and a transparency mode when you want to be a little more alert to your surroundings.
---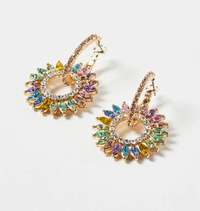 2. Eliza Starburst Statement Hoop Earrings
RRP: $32/£22
Aquarius isn't a sign that likes to stay in the shadows; help them stand out at their next gathering with this super sparkly, colorful statement earrings.
With a kaleidoscope of gems studded around the hoop, these are sure to become a firm favorite - even over their staple best huggie earrings - and get your fave Aquarius lots of compliments.
---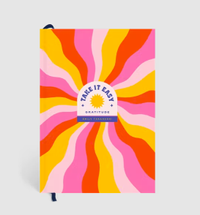 3. Papier gratitude journal
RRP: $35/£26
Gratitude journals are thoughtful gifts for Aquarius signs who like to offset their eccentric moments with some introspective soul-searching, and this Papier journal has everything they might need to do that.
With daily guided journaling ideas, pages to jot down thoughts and affirmations and undated pages giving the freedom to use the journal whenever they want to, this journal is the perfect gift to encourage your favorite Aquarius to take time out for themselves.
---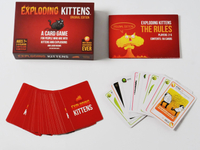 4. Exploding Kittens card game
RRP: $19.99/ £19.99
Narayana recommends that the "quirky Aquarius" is likely to appreciate a more "out-of-the-box gift", and this card game is certainly that. A card game a bit like Uno only with, as CNN puts it, "goats, magical enchiladas, and kittens that can kill you", the aim of the game with Exploding Kittens is to be the last one left alive.
With plenty of fun, if a little inexplicable, cards and an unusual premise, this party game is sure to become a firm favourite.
---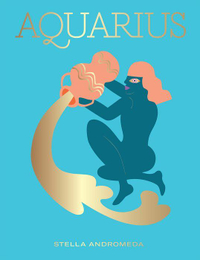 5. Aquarius: Harness the Power of the Zodiac By Stella Andromeda
RRP: £11.99/£8.99
One of the best astrology gifts for Aquarius signs interested in how the stars influence our everyday lives, this book is full of guidance tailored to the specific traits of each Zodiac.
With info on everything from the best career decisions for this Air sign to how they communicate with others, this could prove to become a very useful addition to the Aquarius bookshelf.
---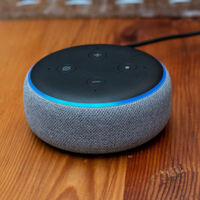 6. Amazon Echo Dot
RRP: $42.96/£34.99
Noush advises that Aquarius signs are likely to "really enjoy a tech gadget that's future oriented, but practical", and this voice-assisted speaker and home assistant ticks both of those boxes.
The 3rd generation of this gadget boasts richer sound quality for those impromptu parties, help with everything from checking the weather to calling friends and will even play games, which is a fun feature this silly Air sign will love.
---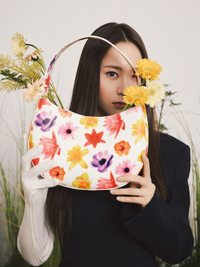 7. Charles & Keith Floral Print Hobo Bag
RRP: $66/£69
Bright, statement accessories make great gifts for Aquarius signs who like to stand out with a unique fashion sense, and this bright floral bag is sure to get them some compliments and become a favorite in the capsule wardrobe.
This hobo bag is the perfect size for a daytime look, and features a playful floral print inspired by 8-bit digital video game graphics, an eccentric detail your recipient will love.
---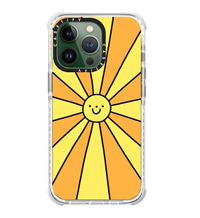 8. Smiley Sun phone case
RRP from: $54/£30
As Noush highlights, Aquarius season babes are super personable as "they love being around people, and they're very friendly", so will put anyone at ease. Help them display their sunny personality with this funky phone case; illustrated by an independent artist, the caring side of this Air sign will love that you supported a small business.
Plus, the Impact Crush phone case, tested with a military-grade drop from 6.6-feet and reducing impact by 95%, is designed to protect phones from pretty much anything!
---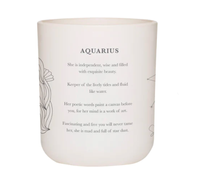 9. Damselfly Aquarius candle
RRP: $39/£32
All that socialising is bound to tire a person out, so self-care treats like the best scented candles make thoughtful gifts for Aquarius signs who might need a nudge towards making some time for themselves.
With calming scents of fresh fig, white jasmine and amber to rival even the best Yankee candle scents, this candle even features a poem dedicated to the best traits of your favorite Air sign to remind them of why they are loved.
---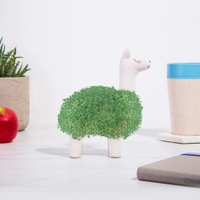 10. Llama Planter with Chia Seeds
RRP: $19.95/£16.50
The laid-back Aquarius likes a bit of silliness, and this llama planter complete with seeds is sure to make them smile.
All they need to do is put the seeds carefully around the planter, water and wait for the little chia seed leaves to sprout into a fluffy green llama coat. If all goes well, it could even becomes one of their best plants for an office desk refresh.
---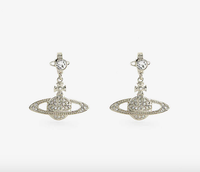 11. Vivienne Westwood planet earrings
RRP: $97/£90
Give a subtle reference to Aquarius' Saturn alignment with these 100% brass Vivienne Westwood earrings studded with cubic zirconia crystals.
With sparkles to catch the sun (or the lights of the club), these earrings are understated enough to work with a daytime work look as well as a nighttime glam vibe.
---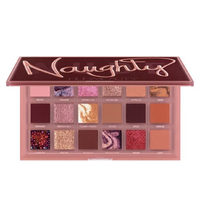 12. Huda Beauty Naughty Nude eyeshadow palette
RRP: $67/£58
One of the best eyeshadow palettes for pretty much any occasion, this pigmented palette is full of fun shades to experiment with. With metallic, matte and sparkly options, it's got everything you need whether you're after a subtle shadow for work or a sparkly glam masterpiece for an event.
Plus, the glamorous packaging makes for a luxurious gift for Aquarius signs who love playing with new make-up looks.
---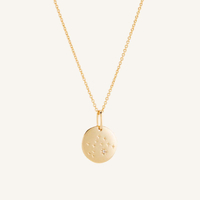 13. Mejuri Zodiac Aquarius Necklace
RRP: $98/£88
Subtle Zodiac jewellery make for great gifts for Aquarius signs who like to show their alignment off with an understated pride, and this beautiful gold pendant necklace is the perfect accessory to do that.
With a gold vermeil, (which is a thick 18k gold layer on sterling silver) to make the necklace durable while keeping that luxurious real gold feel and genuine mineral gemstones arranged in the shape of a constellation, your favorite Aquarius looking for a staple accessory will adore this thoughtful gift to prove your astrology compatibility.
---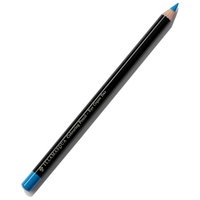 14. Illamasqua Coloring Eye Pencil
RRP: $21/£16
Noush notes that this Air sign "don't care for fitting in as much as they want to stand out", and these pigmented colored eyeliners are the perfect way to add some quirky pop to any look.
There are over 10 shades to choose from, but this vibrant blue is particularly bright and unusual, soon to become a firm favorite in the Aquarius make-up bag. With a long-lasting formula and a creamy texture to smooth effortlessly onto skin, this is a great pencil to try out the best eyeliner hacks and perfect a new signature look.
---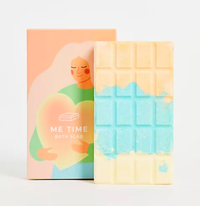 15. Miss Patisserie Me Time Bath Slab
RRP: $13/£7.50
Everyone loves a luxurious soak in the bath after a busy week, and Aquarius signs are no different. Help them lay back and relax with this mango and green papaya scented bath slab, perfect for producing mountains of bubbles for the fun-loving Air sign to enjoy.
Not only will it tint bath water a cool bright color, but with a vegan formula it's also kind to skin so you can relax with all those hot bath benefits.
---
Sadia is a freelance lifestyle writer with a love for all things self-care. Previously a staff writer at The Know Media, she left in late 2021 for an MA in World Literature at the University of Warwick, and has been freelancing in between procrastinating her dissertation. She has since written for publications like Stylist Magazine, Delish UK and Mollie Magazine, amongst others.
When she's not writing (or making yet another excessively colour-coded To Do list) you can find her reading everything from modern classics to contemporary debuts, or else tending to her many thriving plant babies.