These 15 gifts for Geminis are perfect for the curious sign
Gifts for Gemini pals that they'll love no matter what the occasion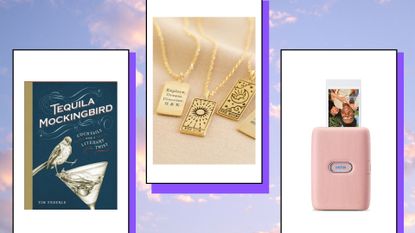 (Image credit: Future)
Finding the best gifts for Gemini friends can be difficult when you're trying to keep all of their traits in mind—especially when they tend to jump from one interest to another quicker than you can keep up. Geminis can sometimes get a bad rap for being fickle, gossipy or indecisive—but if you have a friend from this Air sign, you'll know that the other side of their twin can also be creative, naturally sociable and the life of any party.
Whether you want presents for their fast-paced lifestyle or the best astrology gifts for the more starry-eyed members of the Air sign, we've got you covered. Narayana Montúfar (opens in new tab), senior astrologer for Astrology.com (opens in new tab) and author of Moon Signs: Unlock Your Luminary Power, recommends that it's best to keep the Gemini traits of being a "curious, conversational Mercury-ruled sign" in mind when you're looking for gifts to suit their lifestyle. To help you make an informed decision, here are 15 gifts for Gemini signs that they'll appreciate, no matter what the occasion.
Meet the experts on gifts for Geminis
Noush Joon (opens in new tab) is an intuitive astrologer at astrology website Girl and her Moon (opens in new tab) who specializes in properties of nature, human psychology, energy healing and self-development
Narayana Montúfar (opens in new tab) is a senior astrologer for Astrology.com (opens in new tab) who specializes in birth charts
Best gifts for Gemini signs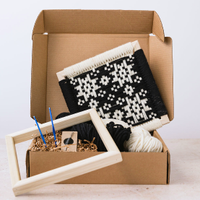 (opens in new tab)
1. 3 month craft subscription box
RRP: $180/£74.85
Geminis are notorious for their short attention spans and creative flair, two traits that don't often pair well. With these three month craft subscription kits, your pal will receive everything they need to try a brand new hobby every month, a perfect way to manage their need to keep their minds engaged and active by constantly jumping into something new.
From delicate embroidery to painting landscapes to cement pouring their own plant pot for that hygge home decor (opens in new tab), the variety of crafts on offer are sure to please even the flightiest Gemini.
---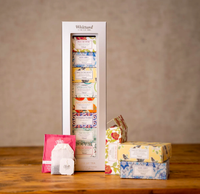 (opens in new tab)
2. A taste of tea gift set
RRP: $26.50 / £20.00
Thanks to their Mercury alignment, Geminis tend to be high energy so adding extra caffeine to their system might not be the smartest idea for the sanity of those around them.
Instead, encourage your Air sign friend to take a rare moment to slow down with a selection of calming teas, with enough of a variety to choose from that even the most indecisive Gemini couldn't get bored.
---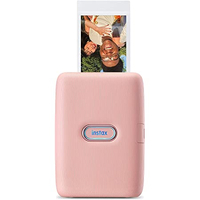 (opens in new tab)
3. Instax mini link printer
RRP: $99.95/£109.99
This portable instant photo printer is the perfect gift for Gemini social creatures who are always out and about, whether they're exploring their city or adventuring in the Amalfi Coast (opens in new tab).
Help them capture the memories before they move quickly onto their next invite—the instant printing feature means they don't even have to remember to send their camera roll off to be produced. Plus, there are a choice of four colours, so you can choose which hue is perfect for the snap-happy Gemini in your life.
---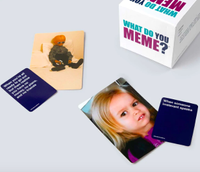 (opens in new tab)
4. What Do You Meme? card game
RRP: $29.99/£27.99
With the tendency to form friendships with lots of different groups often comes plenty of party plans. What Do You Meme? is the perfect gift for Gemini friends who bring the energy to any gathering, and who have the confidence to pep up a lull in the night to get people socialising and laughing again.
Our expert Narayana Montúfar also recommends this game, suggesting that you "consider upgrading their stash with the latest videogame or a gift card to play online. If they prefer something they can play with everyone, so a game like Incohearent, What Do You Meme?, or Cards Against Humanity is a crowd-pleaser."
---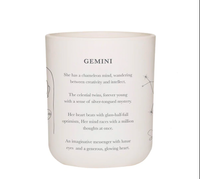 (opens in new tab)
5. Damselfly Gemini candle
RRP: $41/£32
Just because Geminis love to be busy, doesn't mean they don't also need a moment to relax and enjoy some luxury with one of the best scented candles. While we've already worked our way through the best Yankee Candle scents (opens in new tab), this gift offers something a little different.
This stunning candle is scented with a delicate blend of amber, white jasmine, green leaf and fresh fig, and boasts a poem inspired specially by the best traits of the Gemini sign to show you really get them.
---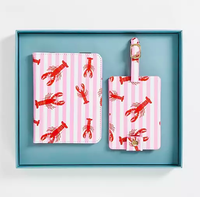 (opens in new tab)
6. Chelsea Peers lobster passport holder and luggage tag
RRP: $48/£28
This matching passport holder and luggage tag is the perfect gift for Gemini friends who take their exploration further afield and are always jet setting off to their next destination or have mastered how to travel alone successfully (opens in new tab).
With a cute lobster print to match their flair for bold patterns that stand out, this accessory set will add a touch of chic coordination to your Gemini's next adventure.
---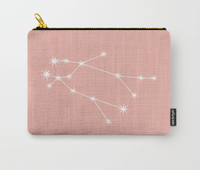 (opens in new tab)
7. Gemini Zodiac Constellation—Pink Rose Carry-All Pouch
RRP: $30/£23.70
A pretty pink gift for Geminis who want to show off their sign with pride, this cute carry all pouch is ideal for all the little bits and pieces they need when heading out for the day.
Made from a resilient canvas material and a soft inner lining, this bag can carry everything from everyday essentials to toiletries while travelling, making it a versatile addition to the accessories collection—plus, the durability means it can go everywhere with your Air sign friends without a hitch and is ideal if pink falls in their color analysis (opens in new tab) palette.
---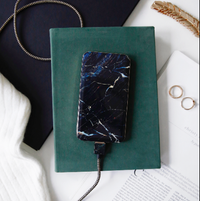 (opens in new tab)
8. iDeal of Sweden portable power bank
RRP: $59.99/£49.99
With all that rushing around from one social plan to another—and of course documenting all the memories they're making—the battery of this Air sign's phone is likely to run out pretty fast.
This gift for social butterflies who find themselves left in the lurch with a dead phone at the end of the night is both practical and cute—with a selection of stunning prints to choose from, you can tailor the gift to perfectly match the personality of your pal.
---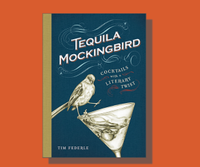 (opens in new tab)
9. Tequila Mockingbird cookery book
RRP: $15/£9.99
The Gemini's love of adventure can often extend to the cuisine they try too, so why not give them some new, fun recipes to experiment with?
Tequila Mockingbird runs through a variety of delicious literary-themed cocktails in a cute coffee table book (opens in new tab), a perfect gift for Gemini party-lovers known for trying their hand at some spontaneous bartending.
---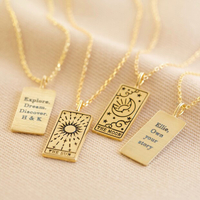 (opens in new tab)
10. Lisa Angel personalised tarot card necklace
RRP: $33.50/£25
Here's a gift for Gemini lovers of the best astrology gifts. If they've already got a tarot card pack of their own, these stunning necklaces are a great alternative.
With gold and silver options, a choice from five different cards—the sun, the moon, the world, fortune and the star—and the chance to engrave your own special message on the back, this is a super thoughtful gift to show your favourite Gemini how much you care.
---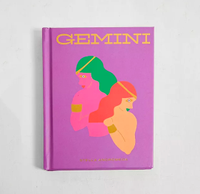 (opens in new tab)
11. Gemini: Harness the Power of the Zodiac By Stella Andromeda
RRP: $11.99/£8.99
In this aesthetically pleasing self-care book (opens in new tab) perfect for prime place on a coffee table, Stella Andromeda helps readers delve into the intricacies of birth charts.
With guidance on answering questions like what job you're best suited to and the personality type you could fall in love with, this is a great gift for Gemini friends who might be a little indecisive when it comes to their life decisions and need a little nudge towards making the most of their sign's power.
---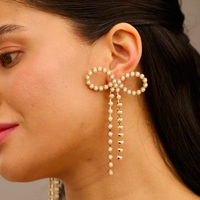 (opens in new tab)
12. Orelia Statement pearl bow earrings
RRP: $39/£30
If there's one thing your average Gemini will love, it's a pair of bold statement earrings—and these pearl bows from onr of the best affordable jewelry brands (opens in new tab), Orelia, definitely fit the bill. Plus, they're making an effort to become one of the best sustainable jewelry brands (opens in new tab)—perfect for your eco-friendly friends.
With a lightweight brass base and pretty faux pearls, this accessory is sure to be a staple of their next party outfit - and will definitely get them some sought after compliments.
---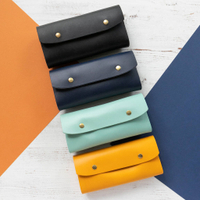 (opens in new tab)
13. Personalised leather sunglasses case
RRP: $49.62/£35
Born between May 22 and June 22, this star sign is lucky to enjoy a birthday that falls just before the warmest months roll around.
No doubt they'll have a timetable filling up with plans in the sun, so help them keep a handle on their summer accessories with this personalised leather sunglasses case.
These come in a selection of bright and happy colours, and are lovingly handmade to order for a bespoke gift for Geminis looking forward to donning their best summer dresses (opens in new tab).
---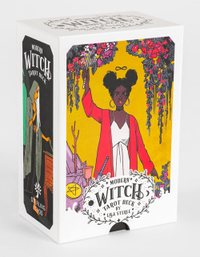 (opens in new tab)
13. Tarot cards
RRP from: $18.99/£16
If you're looking for helpful gifts for a Gemini interested in learning more about the mystical world of astrology, gifting them their first pack of tarot cards shows you've been listening.
Tarot card decks come in all kinds of styles and aesthetics, so show how well you know your pal by picking an art style you know they'll love, and hope that when they learn how to use the tarot cards (opens in new tab) to read your future, it'll be a positive one.
---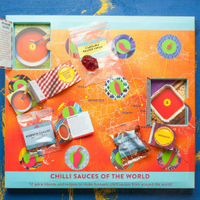 (opens in new tab)
15. Make Your Own Chilli Sauces Of The World Giftbox
RRP: $42.46/£29.95
For the most adventurous Gemini in your life, here's a gift that will spice up their day—literally. This make your own kit gives them the herb and spice mixes they need to create their own chilli sauce, with just a handful of basic ingredients to add to each.
The variety of sauces hidden behind different windows on a world map keeps the kit fresh and interesting, expanding the taste buds of your pal whether they're cooking up healthy food for skin (opens in new tab) or indulgent comfort food.
---
Sadia is a freelance lifestyle writer with a love for all things self-care. Previously a staff writer at The Know Media, she left in late 2021 for an MA in World Literature at the University of Warwick, and has been freelancing in between procrastinating her dissertation. She has since written for publications like Stylist Magazine, Delish UK and Mollie Magazine, amongst others.
When she's not writing (or making yet another excessively colour-coded To Do list) you can find her reading everything from modern classics to contemporary debuts, or else tending to her many thriving plant babies.